At Tri-Valley Dermatology, we recognize that your choice of a dermatologist is driven both by the doctor's competency and personality. When searching for dermatological treatment, you need a dermatologist who is experienced, understanding and supportive. You get this caring attitude from all the staff at Tri-Valley Dermatology every day. Our staff works together as a team to be sure we are responsive to your needs and keep you informed about your health issues. We look forward to getting to know you.
Steve S. Oberemok, M.D . completed his undergraduate work at New York University where he received a B.A. degree. Dr. Oberemok then attended the State University of New York School of Medicine at Brooklyn where he graduated Magna Cum Laude and a member of AOA (National Medical School Honor Society). Following an internship in internal medicine at Montefiore Medical Center of the Albert Einstein College of Medicine, Dr. Oberemok completed a three-year dermatology residency at the State University of New York School of Medicine at Brooklyn where he served as chief resident. After finishing his residency, Dr. Oberemok completed a Mohs fellowship at Columbia University of New York. Dr. Oberemok is a board certified dermatologist as well as a member of the College of Mohs Surgery and many other national and regional medical organizations.He was also involved in dermatology research and published his work in specialty journals. His interests include: Surgical dermatology, skin cancer, cosmetic dermatology and acne.
Why Choose a Fellowship Trained Mohs Surgeon?
Mohs micrographic surgery has set a new standard in skin cancer treatment. An increasing number of physicians are performing Mohs surgery, which is now widely accepted as the most effective treatment for most types of skin cancer. However, not all Mohs surgeons receive the same level of training as Dr. Oberemok, a fellowship trained Mohs surgeon.
When it comes to your skin cancer treatment, you deserve no less than the best. Steve Oberemok M.D. has achieved the highest degree of Mohs surgery qualification by completing an American College of Mohs Surgery approved fellowship. For you, this means peace of mind, knowing that you will receive superior quality and competency, as well as an optimal outcome.
Steve Oberemok M.D. and ACMS - Committed to Superior Care
The ACMS (http://www.skincancermohssurgery.org/) was established by Dr. Frederic Mohs himself, and its fellowship training program is generally acknowledged as the benchmark in Mohs surgery training. Through an extensive application and interview process, only the most qualified physicians are selected by ACMS to participate in a fellowship program. Participants must undergo a rigorous 1 to 2 year training program subsequent to completing a residency in dermatology.
During fellowship training, Steve Oberemok M.D. studied and trained under the guidance of veteran Mohs College surgeons who have demonstrated expertise in Mohs surgery. A cornerstone of the ACMS fellowship training program is cultivating experience and judgment in each graduate. Since skin cancer occurs in a diversity of forms, degrees and locations, the program is set up to be thorough and stringent.
Steve Oberemok M.D. met the following requirements in completing his ACMS fellowship:
Participated in a minimum of 500 Mohs surgery cases
Learned to accurately interpret slides of tissue samples removed during Mohs surgery
Performed a vast array of reconstructions, ranging from the simplest to the most complex, multi-step repairs
As an ACMS graduate, Steve Oberemok M.D. gained an uncommon level of exposure, including everything from challenging tumor locations to rare tumor pathology and complex wound reconstruction. You can rest assured that he has the training and experience to achieve the best outcome from your skin cancer treatment.
The very caring and experienced staff endeavor to provide each patient with courteous, friendly and competent care from check-in to check-out. We offer personal (not automated) telephone service with our staff for scheduling appointments.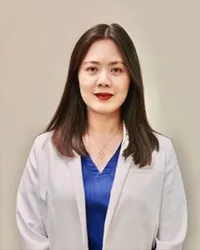 Christine Lopez, NP Christine is a Board-Certified Family Nurse Practitioner. She obtained her Master's Degree from Walden University and has a strong academic background including two Bachelor's degrees. She has been practicing in the healthcare field for over 16 years.
Christine enjoys devoting her time and energy to the skin care needs of her patients. She strives to empower each patient by helping them understand their specific dermatological condition. Christine takes each patient needs, wants, and expectations into consideration when formulating their individual treatment plans. In her free time, she enjoys volunteering and charity work.